Lesson Information
REGISTER NOW FOR
Summer 2022 Session!
Lessons are held on a weekly basis at an agreed upon assigned time.
We offer 60, 45 and 30-minute lessons at varying rates.
In addition to our weekly lessons, Classical Guitar Group Classes are held once a month. Group classes are an extremely motivational environment for every student to participate in. They aid in allowing students enrolled to be involved in a musical community and friendly environment. These classes are very encouraging in helping each and every student reach their own personal goals by working with their peers and in motivating them with their daily practice.
In addition, it is here that students become involved in chamber music, guitar orchestra and group repertoire performances.
The CA Studios also present concerts every session for students to perform at. These concerts are:
Solo Recitals -each student performs on their own.
Chamber Music Concerts – Duos, Trios, Quartets and other instruments.
Guitar Orchestra
Our studios offer a free introductory 30-minute meeting for those interested in registering for lessons.
All lessons and group classes are open for observation.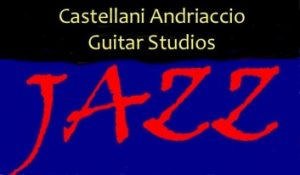 Announcing, our new jazz guitar studies! In addition to our very well established Classical Guitar Studio, we are excited to add this new dimension to our highly successful and sought after program. This will allow our students to be exposed to yet another highly stylized musical form.
What our Jazz Program has to offer:
Sight Reading: a strong emphasis is placed on note reading. This will include reading up and down the fingerboard, with a strong emphasis on syncopation and studies in the jazz form.
Chord Studies: the development of jazz chord voicing which will enable the student to learn harmonized scales in all 12 major keys, chord comping, jazz progressions leading to performing solo jazz guitar.
Improvisation: students begin by studying pentatonic and blues scales to be used over blues and jazz standards. Intermediate to Advanced Students will learn all major and minor scale patterns, modes, chromaticism, arpeggios, diminished, whole tone and altered scales to be played over ii, V, I chord progressions.
Interested in getting your jazz performing skills to a higher level for the Erie County Music Educators Association requirements? Walt has helped many students attain high grades and his expertise in this field can help you to achieve your goal!
Address
The Castellani Andriaccio Guitar Studios
4523 Main St
Amherst NY 14226
(Near Harlem)