Oswald Rantucci Classical Guitar Library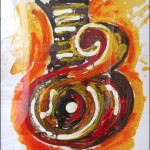 The Castellani Andriaccio Guitar Studio is proud to announce the acquisition of the Oswald Rantucci Classical Guitar Library.
Many years ago, Joanne & Michael had the privilege of studying with the legendary classical guitar instructor, Oswald Rantucci and it was under his tutelage they both earned their Bachelor's and Master's Degrees in Music Performance.
Recently, Oswald's three daughters announced to the Duo that they would like to bequeath to our studio, their father's entire classical guitar library.  This collection of well over 400 scores will enable our students to share in the wealth of solos, ensembles and mixed chamber music to all enrolled in our program!
We are extremely proud and feel very privileged to have taken ownership of his collection, which will allow all of our young and aspiring classical guitar students to be a part of this continuing lineage and legacy.
Address
The Castellani Andriaccio Guitar Studios
4523 Main St
Amherst NY 14226
(Near Harlem)